---
My blogging space
Click on the image to see a bigger one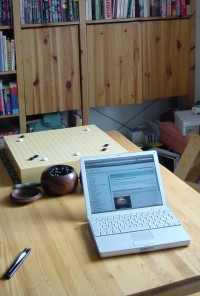 Asmunder's
meme
is making the rounds in the Finnish blogosphere now, so let's try and bring it to English bloggers as well. This is my "blogging space", the place where I write my blog entries, thinking deep and disturbed thoughts.
Why don't you post yours?
(Via SchizoBlog and Mea)
Update: The most cognitionally astute of you have already probably noticed that I've switched to using Bloglines as my RSS reader. Yeah, it's that good. I read my blogs from my home laptop, home desktop, work laptop, and work desktop, and Bloglines is the first one that works seamlessly across these systems. It has a pretty slick interface for a web app, which has been the main reason why I've so far stayed away from browser-based aggregators. It also allows you to publish your blog roll very easily - you can see my 66 subscriptions here, if you are of the voyeuristic type.
---